Click to Access
AMOY MAGIC SITE from
OUTSIDE China


Click to Access Amoy Magic Site from
INSIDE China


TRAVEL LINKS


Xiamen

Gulangyu


Jimei

Tong'an


Jinmen

Zhangzhou


Quanzhou

Wuyi


#1Fujian Sites!


Fujian Foto Album


Books on Fujian


Readers'Letters


Ningde

Zhouning


Longyan

Sanming


Putian

Bridges


Travel Info,


Hakka Roundhouses


Travel Agents

MISC. LINKS


Amoy People!


Darwin Driving


Amoy Tigers


Chinese Inventions


Tibet in 80 Days


Amoy Vampires!


Dethroned!


Misc.Writings


Latest News


Lord of Opium


Back to Main Page


Copyright 2001-7 by Sue Brown & Dr. Bill

Order Books

iE-mail


Note: Please click thumbnails for larger photos!!





[Memorials of Douglas Carstairs]
Part 6 His Missionary Career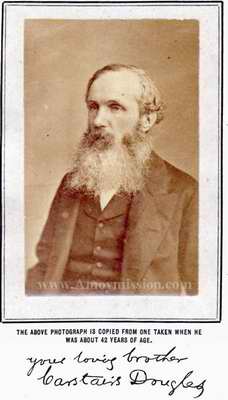 CONTENTS
Part 1. LIFE, EDUCATION,TRAINING, OBJECTS, HABITS,WORK
Part 2. Extracts from his LETTERS
Part 3. PREFACE to his AMOY DICTIONARY
Part 4 Extract from AMOY DICTIONARY
Part 5. His CLOSING DAYS, by REV. WM.McGREGOR, Amoy
Part 6. His MISSIONARY CAREER, by REV. W. S. SWANSON, Amoy
Part 7. Extract from LETTER of REV. DR.TALMAGE, Amoy
Part 8. Extracts from LETTERS of REV. H. L. MACKENZIE, Swatow
Part 9. Missions in China of PRESBYTERIAN CHURCH OF ENGLAND;STAFF, STATIONS,and LONDON OFFICE-BEARERS
Part 10. Statistics of whole PROTESTANT MISSIONS IN CHINA, and of the SHANGHAI MISSIONARY CONFERENCE

HIS MISSIONARY CAREER, By Rev. W. S. SWANSON, Amoy, one of the Missionaries of the Presbyterian Church of England.

IN the death of Dr. Douglas missionary work in China has lost one of its ablest and most zealous agents. He was the senior member of the Foreign Mission Staff of the Presbyterian Church of England, and that Church over its length and breadth is deeply mourning his sudden removal. His distinguished worth and zeal were known, however, over a much wider circle, for every missionary in China feels that, his death is a serious loss to the great cause of work for Christ in that Empire. He went to this work furnished for it in no ordinary degree by scholarly training, and with a mind of great power and capacity. He had set a high ideal before him, and to the end he maintained this ideal. From the very beginning of his course as a missionary, he took a high place. With rare ability, and with singular perseverance and conscientiousness, he carried on his work. And he has left behind him in China a name that can never be forgotten, and a mark in the history of Christian work there that can never be obliterated.


Back to Top

Carstairs Douglas Main Page

Amoy Mission Main Page
MISSION COMMENCED; REV. W. C. BURNS
For some years before he went to China, increased attention began to be directed to that country by Christian Churches in Great Britain and America. The Presbyterian Church of England was then beginning to show renewed vigour and strength; and, like every living church, felt that work in the foreign field was a necessity of life and existence. In the providence of God, China was the field chosen; and the Rev. W. C. Burns was their first missionary. The remarkable blessing that had attended Mr. Burns' labours in this country naturally drew the attention of thousands to the place he had chosen as the scene of his work. This, especially, made Chinese missions a burning question in the congregations and theological halls of the Presbyterian Churches in Scotland and England. Mr. Burns left in 1847, and was followed in 1853 by the Rev. J. Johnston, now minister of Free St. James's Church, Glasgow. Mr. Burns spent some years about Hong-Kong and Canton, and then went up to Amoy. Here his work was in alliance with the agents of the Reformed Dutch Church of the United States, and of the London Missionary Society. There was no distinctive setting up of stations under his own superintendence. In 1854 there was a remarkable work of grace at 1 Pechuia, in which Mr. Burns was the great agent.


Back to Top

Carstairs Douglas Main Page

Amoy Mission Main Page
Shortly thereafter, Mr. Burns left for home, where he remained for a short time, and where he, by his addresses and appeals, deepened and increased the interest in Chinese missions. An association had already been formed in Scotland, as an auxiliary to the English Presbyterian Church in this work, and Dr. Douglas was the first missionary sent out by this association.

He went to China in 1855, immediately after being ordained to the work by the Free Church Presbytery of Glasgow. He went out with Mr. Burns, who was then returning after his short furlough. On arriving at Shanghai they parted company, and Dr. Douglas went on alone to Amoy.
AMOY AND ITS PEOPLE: MISSION FIELD.
He soon found that the field of labour to which he had come was one of the most important and hopeful in all China. Amoy, a large town on an island of the same name, has the best harbour in all South China, and is the centre of a very extensive and flourishing trade. It is the principal port of the Province of Fuh-Kien; and this province has been the main centre of the emigrating power of China. At a very early period Amoy had commercial intercourse with the islands of the Malay Archipelago, and with places still farther west. The Chinese who have gone in thousands to that Archipelago have gone principally from Fuh-Kien. The magnificent island of Formosa has been colonized by emigrants from Amoy; and, considering their means and appliances, they have wonderfully developed its resources. The spirit of push and of enterprise, and the power of colonization, have ever been and still are outstanding characteristics of the men of Fuh-Kien. They may be equaled in these, but certainly not excelled by the Cantonese. The Amoy men, however,, are more outspoken and open than the Cantonese, who are known all over China for their treachery and cunning.


Back to Top

Carstairs Douglas Main Page

Amoy Mission Main Page

The missionary who works from Amoy as a centre, is then acting upon the most enterprising, industrious, and liberal-minded portion of the Chinese population. He finds, too, wonderful facilities of access to the entire field covered by

the Amoy dialect, which commands the country from Chau-An (near Swatow), on the south, to more than too miles to the north of Amoy, and from the sea-board to 100 miles inland, besides most of the great island of Formosa. No missionary could desire a better field or a more interesting people. And Dr. Douglas was not slow to recognise these advantages. China as a whole had his warmest sympathies and his earnest efforts; but still his love to Amoy his own field and the fruitful centre from which has sprung all the work of the English Presbyterian Church, was absorbing. Anything that touched Amoy and the work there seemed to touch the "apple of his eye."


Back to Top

Carstairs Douglas Main Page

Amoy Mission Main Page
"REFORMED DUTCH CHURCH" AND "LONDON" MISSIONS.
He hoped to find Mr. Johnston in Amoy on his own arrival there. But, to his and the Church's deep regret, Mr. Johnston had been forced by dangerous illness to leave China and return home. Single-handed, then, so- far as brethren of his own church were concerned, he began his work; and this was sufficiently discouraging. He would have felt it more but that Mr. Johnston, although judiciously and successfully beginning the work of distinctive stations for his own mission, laboured in essential union with the brethren of the Reformed Dutch Church of America, and in warmest sympathy with those of the London Missionary Society, both of which had for some time before established the missions at Amoy which they still so efficiently maintain there. These brethren did all they could to assist and encourage Dr. Douglas, and he was ever ready to acknowledge what they had done.


Back to Top

Carstairs Douglas Main Page

Amoy Mission Main Page

The first work was to acquire the language. To this work he set himself with the most conscientious zeal and thoroughness. To speak some words intelligibly in Chinese and to express some Christian truths in that language, is not all that a missionary has to do. He has to carry on new and strange work amongst a very acute and clever people, who are quick to discover the flaws in any man's furnishing, and ready, while he may not know it, to ridicule him, and bring his message into disrepute. Besides, he is dealing with a subject entirely new to them, and has, of necessity, to introduce its very terminology to the minds of his hearers, and the earlier missionaries have to create that terminology, which certainly are duties of the most delicate kind, and not to be entered upon rashly and without sufficient preparation. He spared no pains in inculcating this upon those who succeeded him, and who were joined with him in the work; and his own example enforced every advice that he gave. He brought to the study a powerful scholarly mind trained to systematic ways of doing -work,, and a minuteness of research rarely equalled, and never, I think, surpassed. The study of this language, at any time difficult, was at that early date especially so. There were then few aids, and each had to choose his own methods. There was one vocabulary in manuscript, prepared by Mr. Lloyd, an American Missionary, which was wonderfully accurate and full, when the time of its preparation and the materials then at hand are considered; but still the study was most difficult, and involved such patient long-continued drudgery as called for the greatest perseverance of the student. Dr. Douglas looked upon this drudgery as his work for the Master at the time ; and we who followed him can remember how faithfully he used at our times of discouragement to put our work in this light. The result of all was that he became one of the first Chinese scholars of the day, and in this respect his death is an immense loss, His scholarship shewed itself not only in his extensive knowledge of the language of Amoy, but he was equally distinguished for his intimate acquaintance with the literary style. In that district of China these differ so much that they seem two distinct languages.


Back to Top

Carstairs Douglas Main Page

Amoy Mission Main Page
CHINESE DICTIONARY AND SCHOLARSHIP
He soon saw that there was clamant need of a thoroughly well-prepared dictionary of the Amoy colloquial, and he began to collect materials for a work of this kind. Wherever he went, his note-book and pencil were in hand, and he was busy in the work of collection, and also in the revision and verification of the stores already amassed. His brethren of his own and the other missions at Amoy knew this, and at their unanimous request he prepared these, materials for publication. The result was, that in 1873 the dictionary was published, and we can say no more of it here than that it is universally acknowledged by the most competent judges to be a work of most wonderful completeness, of scholarly research and accuracy, and a notable evidence of remarkable ability and talent. On its appearance, the University of Glasgow, ol which he had been a distinguished alumnus, honoured itself by conferring upon him the well-earned degree of LL.D,
Dr.; Douglas was equally distinguished for his intimate acquaintance with the literary style, and his extensive reading in Chinese literature. It was this that gave him the place he had amongst Chinese scholars. He was among them in the very foremost rank. Even amongst literary Chinese he was reckoned a great scholar. I have frequently seen the amazement with which native literary men were struck when they saw how thoroughly he knew their language, and how marvelously well acquainted he was with their literature. How a foreigner could ever have got such knowledge was to them a mystery, and they regarded him on this account with a kind of reverential deference they would accord to few others. In these respects, his example is invaluable for those who succeed him. No one was ever better fitted to train and lead younger men in this most important matter. We might think that at times, he carried his notions into too great minuteness of detail; yet we could not but feel that he advised no line for others which he did not take for himself, and that as regarded our, full fitting and furnishing for the work, his way was very generally the right way.


Back to Top

Carstairs Douglas Main Page

Amoy Mission Main Page
MISSIONARY NEVER LOST IN SCHOLAR.
Dr. Douglas was certainly a student. He loved knowledge for its own sake, and he had great aptitude for its acquisition. But while all this is true of him, it is equally true that he was no mere bookworm, and that so far as he was concerned, at no time was the missionary lost in the scholar. He never lost sight of the great end of his being in China, for this was the central and outstanding characteristic of his whole life, to which everything else was subordinated. To increase his efficiency he made himself thoroughly acquainted with the conditions and circum-. stances of the people whom he so ardently desired to benefit. He knew that there were many things operating against ' him, and none of these must be overlooked. They were factors in the case, and ignorance or depreciation of them would be detrimental. He endeavoured to get into sympathy with the people, and to gain such an acquaintance with them, and their modes of thinking and feeling and acting, as would make this sympathy possible. Still there must be no doubt as to the end he had in view, and the means to be used must always make that end clear. He eminently succeeded in making the Chinese feel that his only motive for being among them was to benefit them by being instrumental in leading them to Him who came to seek and to save the lost. And what is more difficult than all, he had, in the process of getting to know them, necessarily through a multitude of details of a very unpleasing kind, to maintain the tone of a Christian man and the character of a Christian missionary. No one who knew him and the history of his missionary life will hesitate to testify how nobly he was enabled to keep up this tone, and to maintain this character unstained and unsullied. The Chinese respected him from the very beginning, for they never could mistake what he was. And he had an intense regard for them. Indeed, if one were to criticise at all, it would be to say that he was sometimes less suspicious of them than perhaps he should have been. The transparency of his own character, the purity of his motives, and the atmosphere of honest purpose in which he lived, were the main causes of this.


Back to Top

Carstairs Douglas Main Page

Amoy Mission Main Page
PREACHING; TRAINING OF PREACHERS.
To recount his missionary labours and to sum up their results, so far as these can yet be gathered, is impossible for me now and here to do ; but some outstanding facts regarding both must be mentioned, which will go far to show what type of missionary he was. He saw clearly that what he had to do was so to work as, by God's blessing, to be instrumental in setting up a native Church so organized as to be self-supporting and self-propagating. He felt that he was not sent to Anglicize but to Christianize the Chinese, and everything must be so ordered as not to hinder but to further this great end. And the longer he lived, the more cautious was he of importing methods of work useful in the West, but unsuitable to the peculiar conditions of China. Two things were demanded of him, and to these two he set himself: the earnest, faithful, and loving preaching of the Gospel; and the organizing of the Church so that from it might go forth natives properly qualified and trained to carry the message to their fellow-countrymen. He might have been tempted to other more agreeable and congenial lines of work, but he held on his way because he felt it was his duty and wisdom so to do. He was doubtless led to these views from intercourse with the missionaries of other churches already in the field. Nine years before Mr. Burns arrived in Amoy, missionaries from the Reformed Dutch Church of America and from the London Missionary Society had been labouring there; and the principles and practice of the work carried on by them were those already stated. Mr. Johnston followed in the same path; and Dr. Douglas, the longer he lived in China, and the deeper insight he got into Chinese life and thought, was the more convinced of the wisdom of the plans adopted by the men who had preceded him. The missionaries from America were Presbyterians like ourselves; and neither he nor any of us ever dreamt of setting up two Presbyterian Churches in that part of China: and so our mission work and theirs became so united that the Chinese saw we were members of one Church. This union has been most cordially maintained; and so, to-day, we are ecclesiastically one. The Chinese there see only one Presbyterian Church: and well would it be if it were the same all the world over.


Back to Top

Carstairs Douglas Main Page

Amoy Mission Main Page
UNION OF MISSIONS; DANGER; GREAT SUCCESS.
This did not prevent the English Presbyterian Missionaries from choosing one section of the field for themselves, and working it as thoroughly as they could. Pechuia, the scene of that work of grace under Mr. Burns already mentioned, was taken up as a special station of the English Presbyterian Mission by Mr. Johnston, in 1854. It lay about twenty miles south-west of Amoy, and was their only station when Dr. Douglas arrived in Amoy. From that point the work extended south and west. In 1860 he commenced work to the north of Amoy ; first at Anhai, a town about fifty miles off, where, in that year, he nearly lost his life by the violence of an enraged mob who set upon him. But he prudently and quietly held on his way; and he lived to see a large and flourishing congregation in that town, and to see also the work spreading out from it to the district around. At present the stations of the Mission are twenty-five in' number, cover a line of more than two hundred miles in length, and extend inland from Amoy more than seventy miles.*
*This does not include the eighteen stations whose headquarters are at Swatow, nor the twenty-six in Formosa, all carried on by the Presbyterian Church of England.


Back to Top

Carstairs Douglas Main Page

Amoy Mission Main Page

PREACHING TOURS; CHURCH ORGANIZATION.
Over all this region Dr. Douglas's voice has been heard and the Chinese all knew him. He never rested in his evangelistic labours; and his mode of work was to sally out from some station already planted, accompanied by one or two native preachers, and to evangelize over all the surrounding district. His powers of endurance were most remarkable, and the Chinese used to say that while he could wear them all out it was impossible to wear him out. But we felt he was wearing himself out, and we tried to remonstrate, but remonstrances were too often in vain. It seemed to be a necessity of the man's nature to fill up every spare moment with method and precision.

He was equally zealous in church organization as in church extension, for he felt that the one was as important as the other. As soon as congregations were sufficiently strong, they were organized. They had free election of their own office-bearers, and the Presbyterian polity was found to be peculiarly acceptable to the Chinese. Representation by election, and the relations of judicial bodies were not new ideas to them. Their own social and political systems are to some extent upon the same principles. In due time, a presbytery was formed, in which our American brethren and we had seats, but the natives formed the great majority of its members. I can never forget the enthusiasm with which he entered on all presbytery business, and the glow of fervour that possessed him at all its meetings. His name was sure to be on all important committees, and most faithfully did he discharge such duties.


Back to Top

Carstairs Douglas Main Page

Amoy Mission Main Page
TRAINING OF CHINESE PREACHERS.
From the very outset he perceived the great importance of training up a native ministry and of educating native agents to carry on the work. When alone and single-handed in his own Mission, he did what he could in this department, and he never ceased his care about it until he saw a thoroughly equipped institution established in full working order.

Latterly he was surrounded by a band of natives who had been trained in it, and who were actively engaged in preaching the Gospel to their fellow-countrymen. He did not fall into the mistake of thinking that any man could preach; he knew that the more thoroughly men were prepared for their work, the better the work would be done. Nothing was allowed to come between him and his work with the students. His brother missionaries and he divided it among them, and, on their return from country work, their days in Amoy were devoted to this native college. He never seemed more in his element than when surrounded by these young men. Our habit has been to encourage them to state openly to us any difficulties they have, and freely to question us on things about which they doubt, or wish fuller information. This is always done at the end of the teaching hour. I think I see him now, all eager and enthusiastic, hearing and answering the fire of questions from these students. It was no easy task to answer some of them on the spur of the moment. But he never discouraged them, invariably dealt fairly and openly with them, and never failed to put them on the lines where solution would be found. They are all mourning him to-day, and mourning deeply and bitterly, for his death makes a blank to them that can hardly be filled.


Back to Top

Carstairs Douglas Main Page

Amoy Mission Main Page
CORDIAL WORKING WITH COLLEAGUES; FORMOSA
There is one other phase of his character as a missionary that must not be omitted here. I can hardly put in words what he was to the brethren of his own Mission. He had to stand for years alone, and was more than once disappointed in his hopes of getting helpers to remain with him: but he bravely held on. And when the mission staff did grow around him, he never ceased to take the deepest interest in everything that concerned them. He was the senior member of the staff, but he never, saved himself a single detail of work. He took his own share, at least, of everything with all of us. He was far removed from anything like selfishness in such matters; and his high sense of duty to the Master and to us kept him from picking and choosing what might be most congenial to himself. Down to the very last, the very drudgery of the work (so to speak) had as much of his attention as it had of those of us who were younger and less experienced than he. We would have willingly spared him this, but the loyal brotherliness that was in him refused all such distinction. It is impossible for men engaged in such work to sink their individuality; and it can only be by loyal self-denial and deference to the opinions of others that they can work lovingly together. The rule on which he acted was to accept, unhesitatingly, what seemed best to the greater number, and to carry this out in action as cheerfully and pleasantly as he could. The consequence was that a most remarkable amount of harmony characterised the mission staff. And this had much to do with the solid success that has marked the Amoy work. Where internal dissensions exist in a mission, and where individual preferences as to modes and fields of work are carried out, irrespective of the claims of the work as a whole, and with little regard to the opinions and feelings of brethren, there must be loss of moral force and consequent weakness. We can testify that Dr. Douglas never manifested such a spirit; and now that he is gone, we feel that it is of the last importance to follow the example of loyal brotherliness he always showed us.


Back to Top

Carstairs Douglas Main Page

Amoy Mission Main Page
EUROPEAN RESIDENTS: MISSIONARY CONFERENCE.
His missionary work was not confined to his own immediate district, for, in 1860, he passed over to Formosa, and remained a few weeks in the northern part of that island. The result of this visit was, on his part, a deep interest in that island, and an earnest and unremitting advocacy of its claims as a field for work. During a short stay at home, in 1862, he succeeded in getting the Church to take it up, and on his return, in 1863, he was accompanied by Dr. Maxwell, the first missionary to Formosa. As soon as Dr. Maxwell was ready for work, Dr. Douglas went over with him, shared the early difficulties and dangers of the work, and aided in setting the mission a-going. According to the best of testimony, the first converts in that island received the Gospel from his lips.

Dr. Douglas was also highly respected amongst his own countrymen who were engaged in China in commercial pursuits. He did everything he could to further their highest interests, and ever had a deep and loving regard to the young men employed in the commercial houses at Amoy. He knew the temptations that surrounded them on every side, and he did all he could in the way of lovingly and tenderly warning and leading them.

He died a comparatively young man, for he was only in his 47th year when he was cut down by cholera. But his work was finished; and in looking back upon it we can see a wonderful roundness and completeness about it. It is remarkable that among the last things he did was attending the Missionary Conference that met at Shanghai, in May last. There were more than 100 delegates present, gathered from all China, and representing very fully the various churches and societies having agents there. An American and a British president were appointed, and this high honour was unanimously conferred on Dr. Douglas by the British delegates. This shows the estimate they had formed of him, and they are the most competent judges. There seems to be a most peculiar fitness in this, forming, as it were, the closing scene pf his public work.


Back to Top

Carstairs Douglas Main Page

Amoy Mission Main Page
SPIRITUAL CHARACTER; DEATH.
He spent twenty-two years of his life in this work, and he did in these years what few could have done. Now that he has gone, we think of his work and his walk as a most precious legacy to the church that sent him, and to the brethren who had the privilege of working with him. Were he here to speak, he would tell of all God had done by him, to the glory of that grace that made him what he was; and we, too, cannot cease to praise God for giving us such a gift, and for leaving with us so many permanent proofs of our departed brother's usefulness and of the grace that was in him. He was not demonstrative in the expression of the deeper spiritual feelings of his heart. But we knew how near he lived to the Master, and how deeply he had learned of Him. The steady, onward walk along the unromantic dusty path of duty is the noblest testimony to the wonder-working power of God's own Spirit, and this testimony he has left behind for all who follow him.

He has gone, and his memory increases the amount of our Church's treasures°™for few Churches can point to three such lives as those of Burns, Sandeman, and Douglas. But are not the Church's responsibilities increased to an equal amount? Let their memories be lovingly cherished in the way of an increased devotion to the work for which they lived, and in which they died.

I part now from a brother dearly beloved, with whom, for seventeen years it was my privilege to be most closely united, and I do so with a bitter heart. I shall not see his like again°™but the remembrance of what he was and of what he is can never cease to be to me unspeakably sweet and precious.


Back to Top

Carstairs Douglas Main Page

Amoy Mission Main Page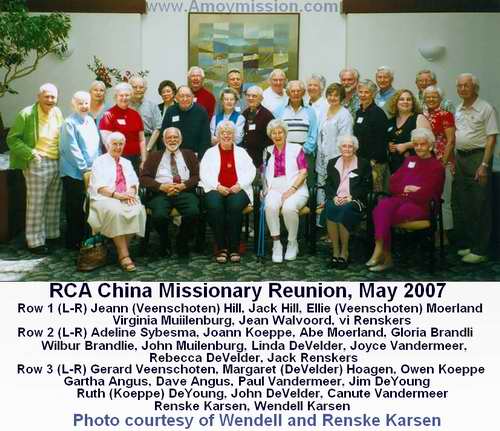 HELP the AMOY MISSION!!! This photo of the May, 2007 RCA China Missionary Reunion (courtesy of Wendell and Renske Karsen) show that some RCA folk are still around--and we need their help!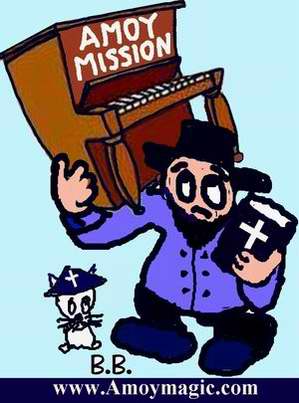 The John Otte Memorial on Gulangyu Islet finishes with, "This stone may crumble, his bones may become dust, but his character and deeds are imperishable." But too many characters and deeds will be forgotten if we don't record them while those who remember are still with us. Please E-mail to me stories and photos for the Amoy Mission site (and planned book) so present and future generations can appreciate the character and deeds of those who served in the Amoy Mission.
Thanks!
Dr. Bill Xiamen University MBA Center
E-mail: amoybill@gmail.com
Snail Mail: Dr. William Brown
Box 1288 Xiamen University, Xiamen, Fujian PRC 361005

Back to Top

Carstairs Douglas Main Page

Amoy Mission Main Page
TRAVEL LINKS

Favorite Fujian Sites

Fujian Foto Album

Xiamen

Gulangyu

Fujian Guides

Quanzhou

Z
hangzhou

Longyan

Wuyi Mtn

Ningde

Putian

Sanming

Zhouning

Taimu Mtn.

Roundhouses

Bridges

Jiangxi

Guilin

Order Books

Readers' Letters New: Amoy Vampires! Google Search

Click to E-mail


Readers'Letters
Last Updated: October 2007


Back to Top
Google Search
AMOY MISSION LINKS



A.M. Main Menu


RCA Miss'ry List


AmoyMission-1877


AmoyMission-1893


Abeel, David


Beltman


Boot Family


Broekema, Ruth


Bruce, Elizabeth


Burns, Wm.


Caldwells


DePree


Develder, Wally


Wally's Memoirs!


Douglas, Carstairs


Doty, Elihu


Duryea, Wm. Rankin


Esther,Joe & Marion


Green, Katherine


Hills,Jack & Joann
.

Hill's Photos.80+
..

Keith H.

Homeschool


Hofstras


Holkeboer, Tena


Holleman, M.D.


Hope Hospital


Johnston Bio


Joralmans


Karsen, W&R


Koeppes, Edwin&Eliz.


Kip, Leonard W.


Meer Wm. Vander


Morrison, Margaret


Muilenbergs


Neinhuis, Jean


Oltman, M.D.


Ostrum, Alvin


Otte,M.D.

Last Days


Platz, Jessie


Pohlman, W. J.


Poppen, H.& D.


Rapalje, Daniel


Renskers


Talmage, J.V.N.


Talman, Dr.


Veenschotens
.

Henry V.

Stella V.
.

Girard V.


Veldman, J.


Voskuil, H & M


Walvoord


Warnshuis, A.L.


Zwemer, Nellie


Fuh-chau Cemetery


City of Springs
(Quanzhou, 1902!!)


XM Churches

Church History


Opium Wars


A.M. Bibliography


YMCA Volunteer!


XICF Fellowship


Temples


Mosques


Christ in Chinese
Artists' Eyes

DAILY LINKS


FAQs Questions?


Real Estate


Shopping

Maps


Bookstores


Trains

Busses


Car Rental


Hotels

News (CT)


Medical & Dental


Expat Groups


Maids

Phone #s
EDUCATION


Xiamen University


XIS(Int'l School)


Study Mandarin


CSP(China Studies)


Library

Museums


History
DINING

Tea Houses


Restaurants

Asian


Veggie

Junk Food


Chinese

Italian


International


Visas 4 aliens
RECREATION


Massage!


Beaches

Fly Kites


Sports

Boardwalk


Parks

Pets


Birdwatching


Kung Fu

Hiking


Music Events


Cinema


Festival&Culture


Humor&

Fun Fotos


BUSINESS


Doing Business


Jobs!(teach/work)


Hire Workers


Foreign Companies


CIFIT (Trade Fair)


MTS(Translation)



Back to Top