Click to Access
AMOY MAGIC SITE from
OUTSIDE China


Click to Access Amoy Magic Site from INSIDE China


TRAVEL LINKS


Xiamen

Gulangyu


Jimei

Tong'an


Jinmen

Zhangzhou


Quanzhou

Wuyi


#1Fujian Sites!


Fujian Foto Album


Books on Fujian


Readers'Letters


Ningde

Zhouning


Longyan

Sanming


Putian

Bridges


Travel Info,


Hakka Roundhouses


Travel Agents

MISC. LINKS


Amoy People!


Darwin Driving


Amoy Tigers


Chinese Inventions


Tibet in 80 Days


Amoy Vampires!


Dethroned!


Misc.Writings


Latest News


Lord of Opium


Back to Main Page
Copyright 2001-7 by Sue Brown & Dr. Bill

Order Books


Amoy Mission Main Page Amoy Magic (Guide to Xiamen) Main Page iE-mail


Note: Please click thumbnails for larger photos




Joe Esther & Family in Amoy (P.3)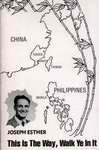 Note from Bill Brown: Jack and Joann Hill provided photos of Joe, and this self-published book. Please contact me if you hold the copyright (or can provide more information and photos!). Used copies are available online.

Contents
Preface (from son's letter)
1. Childhood Home 2. Turning Point in My Life
3. My Years of Education 4. My Marriage and My First Church
5. The Call to China 30 6. On the Way to China
7. Our Arrival in Tong-An 8. Fukien Missionary Stations
9. Beginning of Work 10. In An Khoe Mountains
11.Danger from Tigers 12. The Last Amoy Mission Meeting
13.Happy Interlude 14. Off to the Philippines
For chapters 15-25, please buy used copy of book online, or e-mail

Chapter 12 The Last Amoy Mission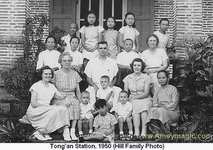 Meeting
When we met in August, 1949 as a mission, we did nut know it would be our last meeting as the Amoy Mission under the Reformed Church in America. The Reformed Church had spent more than 100 years working in south Fukien province. In 1842 they had built the first Protestant church in all of China in Amoy and called it Sin-Koe-A. Now, 107 years later we doubted the wisdom of meeting together because of the Communist threat from the north.
For some time already we had thought it wiser for each station 10 meet and then convey its ideas to the others. Since none knew how soon the Communists might arrive or the danger this might bring and each station wrote about the difficulty of carrying on our mission work under the present conditions, we saw that we ought to have a meeting to decide clearly what we should do.


Back to Top

Amoy Mission Main Page
We missionaries in Tong-an had held weekly prayer meetings and they became increasingly fervent. We discussed things carefully and decided what we would do if the Communists took over. We envisioned that we might be there several years even with no contact with the home church. We also held in mind the possibility that the Communists might be kind to us and let us go quietly out of China. On the other hand, it could he that the soldiers would take all our goods, forbid us to work, and maybe lock us up.
We discussed what things we could save to take care of our households. We discussed whether to keep some Hong Kong money or some U.S. money, not knowing whether we could use any of it. We discussed buying canned goods and hiding it under the houses but we feared thieves might take it. We finally decided to buy un-husked rice and peanut oil, both very necessary items in the area, and use them to barter with for other things which we needed. The currency of the time was so useless that we needed a suitcase-full to buy food for one day.


Back to Top

Amoy Mission Main Page
Someone brought out that we did not know what kind of treatment the Communists would give any individual among us; so each of us should depend upon God's guidance at the time and not be bound by any plan we might make. We asked for advance money to buy our unhusked rice and peanut oil for each family to store for the future. We decided also to ask the Home Board to provide some funds in Hong Kong for those who might need money there upon leaving our area.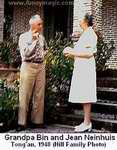 Miss Jean Nienhuis, the oldest missionary of our group at Tong-an, said, "I observe that we have many different opinions because we do not know enough and we need more light. Let us continue to pray for guidance."
We prayed fervently for there was real fear in our hearts. We younger missionaries did not know how to plan for the future; the older ones felt the need of God's guidance as much as we did. We felt during prayer that we were still confused and uncertain about what might come, but we knew our God would be with us whatever might happen. Jean Nienhuis closed the meeting with an earnest prayer of thanks for our faithful Savior and the constant presence of our loving Father.

After this meeting we gave to the church leaders such materials that we had brought into China for the spread of the gospel, flannel graph pictures, a mimeograph machine, a loud-speaking system, radio, and a transformer. They found hiding places for them, thinking that in the future they might be able to use them. We did not care to go any distance away from our homes or even to do too much work with the Chinese Christians lest it make things harder for them; so it became a time of waiting and testing of our faith. The shadow of the ruthless power of Communism was coming nearer and growing darker.
At that time the call went out for our last mission meeting. All the missionaries from Tong-an went to the meeting except for the mothers with little children, Molly among them.


Back to Top

Amoy Mission Main Page
As we met together we pooled our thinking and soon realized we were troubled about some of the same things. We let each one state what he thought he ought to do, without fear of criticism of his decision which would be respected by all. During the personal reports many spoke with feeling and tears were shed. Without exception everyone of us decided to stay and stand shoulder to shoulder with our brothers and sisters in Christ as they suffered under Communism.

We decided to close with a prayer meeting and then return to our various stations. The time of prayer was very moving and ardent requests for safekeeping and for courage and strength were placed before the throne of God. It had been good to share our thoughts and kneel together.

As we went home it was clear to all that the time had come and the Communists would soon be in Fukien. I know I was filled with thoughts of what would happen to our family if we stayed and what would happen if the family left.

I had just been home a few hours when Walter DeVelder, our brother-in-law, walked into our house. He came to give the report of the meeting of the doctors which had followed our prayer meeting. The doctors had decided that Molly, who was six months pregnant and had a history of a blood problem with a previous pregnancy, should leave immediately with our three children. The decision was also made that Harriet DeVelder, Molly's sister, should leave with their young children, who had suffered earlier as they fled from the Japanese in the Second World War The doctors feared a second traumatic experience would be too much for them.


Back to Top

Amoy Mission Main Page
In a little over twenty-four hours the two families were in Amoy with tickets on the last ship that left the harbor under ordinary conditions. After this sailing there was gun-firing on all successive departing vessels. Walter and I decided that we would take our families to Hong Kong, place them on the steamer for the U.S. and then return to our stations. Molly had a change of clothing for herself and the children and some photographs in the suitcases but there had been no time to gather anything else. I did not even have a suit with me ¡ª just overnight provisions.

We went directly from the Dutch ship, which had brought us from Amoy, to board the American passenger ship in the Hong Kong harbor, hoping there would be room for both mothers and all the children. We had only telegraphed from Amoy. However, we discovered that there was only accommodation for one family. Harriet thought Molly should be the one to travel by plane because she was in need of getting home sooner. I did not know what was wisest so I accepted Harriet's decision, especially since she was a nurse.

When Walter had bid his family goodbye we went to the plane company to arrange for Molly and the children. I hoped there would be no delay both for Molly's sake and so that I could accompany Walter back to my station to see how I might strengthen and comfort others.

The plane company required Molly to have an examination by their company doctor. The doctor and the company made the decision that under the circumstances Molly could not travel alone with three young children in her condition; so I was forced to accompany her by plane. Many times on that trip home I was troubled that I had not had the chance to return with Walter. I felt I had let my fellow Christians in China down; that I had failed God in my promise to stay no matter what we suffered.

Yet, again and again God showed us that He was leading us. In spite of a stop-over of twenty-four hours in Okinawa because of a severe typhoon, we met Harrier's ship in Japan. She told us of the stormy trip and the mothers who had delivered babies early because of the terrible turbulence. I knew God had led our way.


Back to Top

Amoy Mission Main Page
When we waited in the hotel in Tokyo for our plane connections we met with Dr. Luman Shaefer, the secretary of our Board of World Missions. He requested us to explain our presence and asked about the other missionaries. He was entirely in agreement with our leaving. He explained that some missions had left China in toto (everyone leaving).
"Who knows but this may be the very will of God ¡ª not just the decision of the doctors?" he remarked.

I began to feel differently about the whole question. I saw how God provided rest for Molly in the stop-over in Okinawa and also in the four days of delay in Tokyo when we had lost our previous plane connections; then yet again in Anchorage, Alaska when a tire blew out on the plane just as we taxied out from the airport. This could not be just circumstance, but the loving care of God.

When I spoke in the churches at home and heard their questions, "Are the missionaries compromising with Communism?", I knew that it was God's plan that 1 should be home to help the churches in the United States understand the bravery and the dedication of our Reformed Church missionaries, who had decided not to run for safety but to stand beside their Christian brothers in this time of great danger.

In the end all of our missionaries did come out of China, but not until some of them had gone through some terrible experiences as in the case of Dr. Oilman who was all alone so long, or the case of Dr. Poppen who almost lost his life. His friends saved his life by asking that "such a dangerous man as Dr. Poppen" should be sent out of China immediately.


Back to Top

Amoy Mission Main Page
The stories of many heroes of faith who were kept prisoners in their homes for up to two years and left under dangerous circumstances should have been told. I regret that no one has written this great story of faith triumphing over danger and God leading his people through privations and death. There would be in this story Chinese Christians as martyrs; there would be missionaries kept alive at the risk of the Chinese Christians who brought them food; there would be missionaries who proved their faithfulness and were led through difficult paths to safety.

The story of those who continued in missionary work after they came out of China should also be told. Dr. Poppen came home and soon became president of the Synod but later served again in Singapore. Dr. Holleman came home and did private practice until he was invited by the MacKay Hospital in Tai-peh, Taiwan, to help them. There he re-organized the hospital and built a new wing. He inspired confidence wherever he went and whatever he did, and set that hospital on its feet in a wonderful way.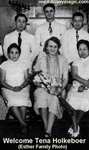 Miss Tena Holkeboer ended her brilliant missionary career among the Chinese in the Philippines. The DeVelders served for a time in the Philippines and then transferred to Hong Kong. Rev. and Mrs. Veenschoten worked in the Philippines in the provinces and later in Manila in radio work. Young people whom they trained in radio ministry are still carrying on radio work. A man who came out from Red China said to me no person of musical stature in South Fukien had not been trained under Mrs. Veenschoten. Dr. Jack Hill and his wife, Joann, gave several years of valuable labor in Cebu General Hospital in Cebu, Philippines. The Muilenburgs worked for some time at Silliman University, especially with the Chinese college students. Miss R. Broekema and Miss J. Walvoord continued their missionary service in the P. I. among the Chinese too, but later carried on until their retirement in Taiwan.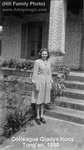 Others like Miss Jeanette Veldman and Miss Anne DeYoung went on to the Arabian field to continue their missionary work. Miss Gladys Kooi joined the missionaries in India. Still others, among whom were the Van Wykes and the Kleinjans, continued their careers in Japan. Wherever the Amoy missionaries continued in mission work they made fine records of consecrated work for the Lord Jesus Christ and for His Kingdom.


Back to Top

Amoy Mission Main Page
Chapter 13 A Happy Interlude
What happened to the Esthers? We were the first ones to come out of China. We lived with Harriet DeVelder, Molly's oldest sister, and her five children in the same mission house for almost one year. Harriet had the upstairs and we had the downstairs two rooms. We shared the kitchen and the living room. The sisters took turns, by weeks, cooking for the large family.


Back to Top

Amoy Mission Main Page
I want to relate some interesting experiences we had while our two families lived together in the mission house. Although I was gone most of the time, speaking, because every church wanted to hear about the situation in China first hand, I did what I could to keep that big household which had nine children and the oldest among them not yet ten. Meanwhile, the two sisters were busy all day long.

The new baby, Barbara, was adored by everyone, especially by the children. She was born in November without any complications, although the doctors expected and were ready for a serious situation. Because the baby was well developed and sometimes the RH blood problem developed at the end of the pregnancy, the doctors induced labor before full time. We were very thankful for a perfect baby and that Molly had a good recovery.

When I returned home from the hospital our son, Jim, was still awake. He had wanted a baby brother. When I told him we had a beautiful new baby sister, two big tears coursed down his cheeks, but he finally smiled and said, "That's all right." Jim was the one who said, "Let's call her Barbara so we can still nickname her Bobby." This was the name chosen for the brother he had hoped for.

Molly had an operation right after Barbara was born so they were in the hospital a little longer. This time it was for the mother's sake instead of the baby's sake as in the case of Mary. Barbara was a sweet, healthy baby and he wanted to keep her that way. So, when the other children were having mumps and chickenpox, just at the time when Molly and the baby came home, we kept them apart from the children for a while. However, every afternoon Molly would show the baby at the front window. The children would talk and smile and enjoy the new baby. Harriet, Molly's oldest sister, was both nurse and mother to all the children while Molly recovered her strength.


Back to Top

Amoy Mission Main Page
It proved to be a great blessing to have Harriet and her family of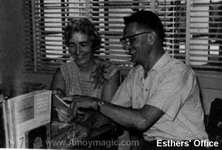 children with us. It was amazing how well such a big group got along together. The cousins learned to love each other as brothers and sisters. They all went to school together except for the two youngest and the new baby. We thanked God for the experiences we had together in those eleven months.

A few months after Barbara's birth, four of Harriet's children and our Jim and Joan had to have their tonsils removed. At that time we really had our hands full. It took all three adults to take care of them for a few days.
One of the children, John DeVelder, did not pick up strength as quickly as the others. John was listless and had no appetite. We were all concerned about him. Harriet took him back to the doctor to be checked, but he did not discover the problem.

One afternoon when all the children were enjoying watching a tulip-time parade, I asked Harriet if I could carry John to the porch to see the parade. Lifting him up dislodged the piece of cotton packing which had been left in by mistake. As soon as that packing came out John said, "I'm hungry!" From that day on he improved. I felt thankful to God that he used my concern for the little fellow to remedy the problem and give John a chance to be healed.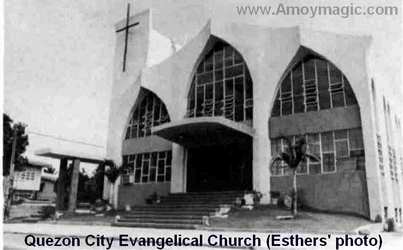 At a special mission Board meeting held at the Fourth Reformed Church in Holland, the decision was made that the Esthers be sent to Japan to continue missionary work. When I told our good friends, Peter Sia and Wesley Shao, who were studying at the seminary in Holland about our new assignment, I shared my feeling about learning Japanese when I had not really mastered Chinese yet and at my age, 39,1 did not favor learning a new language.

Wesley Shao responded with, "Why go to Japan? There are many Chinese people in the Philippines. You could work among them."
He immediately wrote to the Chinese Church and the two Chinese schools he knew in the Philippines. When their requests came to the Board of World Missions they changed their decision and appointed us to work among the Chinese in the Philippines.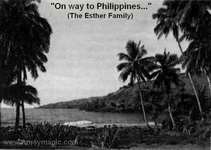 So, after eleven months in the United States, and before Walter DeVelder or the other missionaries had come out of China, in September of 1950 we were on our way to the Philippines where we were to work for the next twenty-five years.

We did not know anyone there but we were sure that God had His plan and was directing our steps. Our hearts were at peace.


Back to Top

Amoy Mission Main Page
Chapter 14 On Our Way to the Philippines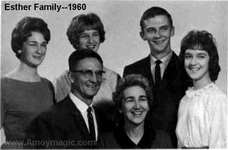 We traveled across the United States in a Chevrolet Carry-All with three long seats. We planned to put the Carry-All on the ship and use it in the Philippines as a mobile unit. It was not ours. It came to us as many gifts of God did ¡ª as a mighty surprise.

I was traveling in New York, doing deputation work in the churches. I came to St. Johns, New York where my classmate, Rev. Ernest Crounse, was the pastor. He surprised me by sa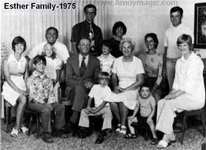 ying to me, "We have a member of this church who has sugar diabetes. Already he lost one leg and his doctors are trying desperately to save the other leg. He will probably not live very long. He is a generous man, a rich man too. He has given away many generous gifts to people. Is there anything you need in your mission work? We can try to get it from him."

Naturally, I immediately said, "Yes", but I wanted some time to think what I might need most.

Rev. Crounse suggested that I think about my needs and be ready with a possible cost of the item.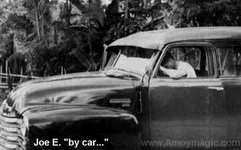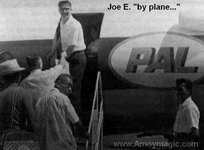 I prayed for guidance and experienced a definite answer to my prayer. It was clear to me that I should plan on having a mobile unit in the Philippines, which would include an appropriate car and the equipment needed to operate in the provincial areas which, Weslcy had told me, also had many Chinese people. I would need a slide projector and religious slides; a movie projector and screen and an amplifier system. I would do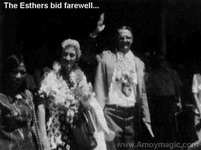 outreach work much as I had during my three years experience in China.
Rev. Crounse made an appointment to see Mr. Fowler at his home, where he was recuperating from his operation. After we had talked a while, Mr. Fowler asked if there was something I would need for my work in the Philippines.


Back to Top

Amoy Mission Main Page
Then I told him my plan to carry on a program like the one....

Read the rest of Joseph Esther¡¯s Story in ¡°This Is The Way, Walk Ye In It,¡± available in libraries or from online used book stores.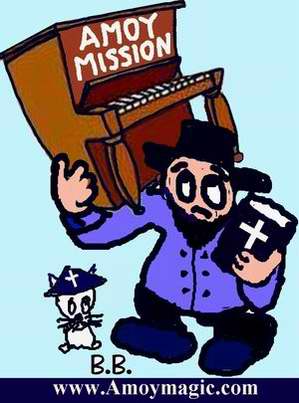 Please Help the "The Amoy Mission Project!" Please share any relevant biographical material and photos for the website and upcoming book, or consider helping with the costs of the site and research materials. All text and photos will remain your property, and photos will be imprinted to prevent unauthorized use.

Thanks!





Dr. Bill Xiamen University MBA Center
E-mail: amoybill@gmail.com
Snail Mail: Dr. William Brown
Box 1288 Xiamen University, Xiamen, Fujian PRC 361005

Click to E-mail


Readers'Letters
Last Updated: October 2007


Back to Top
Google Search
AMOY MISSION LINKS



A.M. Main Menu


RCA Miss'ry List


AmoyMission-1877


AmoyMission-1893


Abeel, David


Beltman


Boot Family


Broekema, Ruth


Bruce, Elizabeth


Burns, Wm.


Caldwells


DePree


Develder, Wally


Wally's Memoirs!


Douglas, Carstairs


Doty, Elihu


Duryea, Wm. Rankin


Esther,Joe & Marion


Green, Katherine


Gutzlaff, Karl


Hills,Jack & Joann
.

Hill's Photos.80+
..

Keith H.

Homeschool


Hofstras


Holkeboer, Tena


Holleman, M.D.


Hope Hospital


Johnston Bio


Joralmans


Karsen, W&R


Koeppes, Edwin&Eliz.


Kip, Leonard W.


Meer Wm. Vander


Morrison, Margaret


Muilenbergs


Neinhuis, Jean


Oltman, M.D.


Ostrum, Alvin


Otte,M.D.

Last Days


Platz, Jessie


Pohlman, W. J.


Poppen, H.& D.


Rapalje, Daniel


Renskers


Talmage, J.V.N.


Talman, Dr.


Veenschotens
.

Henry V.

Stella V.
.

Girard V.


Veldman, J.


Voskuil, H & M


Walvoord


Warnshuis, A.L.


Zwemer, Nellie


Fuh-chau Cemetery


City of Springs
(Quanzhou, 1902!!)


XM Churches

Church History


Opium Wars


A.M. Bibliography


YMCA Volunteer!


XICF Fellowship


Temples


Mosques


Christ in Chinese
Artists' Eyes

DAILY LINKS


FAQs Questions?


Real Estate


Shopping

Maps


Bookstores


Trains

Busses


Car Rental


Hotels

News (CT)


Medical & Dental


Expat Groups


Maids

Phone #s
EDUCATION


Xiamen University


XIS(Int'l School)


Study Mandarin


CSP(China Studies)


Library

Museums


History
DINING

Tea Houses


Restaurants

Asian


Veggie

Junk Food


Chinese

Italian


International


Visas 4 aliens
RECREATION


Massage!


Beaches

Fly Kites


Sports

Boardwalk


Parks

Pets


Birdwatching


Kung Fu

Hiking


Music Events


Cinema


Festival&Culture


Humor&

Fun Fotos


BUSINESS


Doing Business


Jobs!(teach/work)


Hire Workers


Foreign Companies


CIFIT (Trade Fair)


MTS(Translation)



Back to Top